Trusted Medicine Hat Mortgage Broker
20 Minute Mortgage Pre-Approvals – Call Now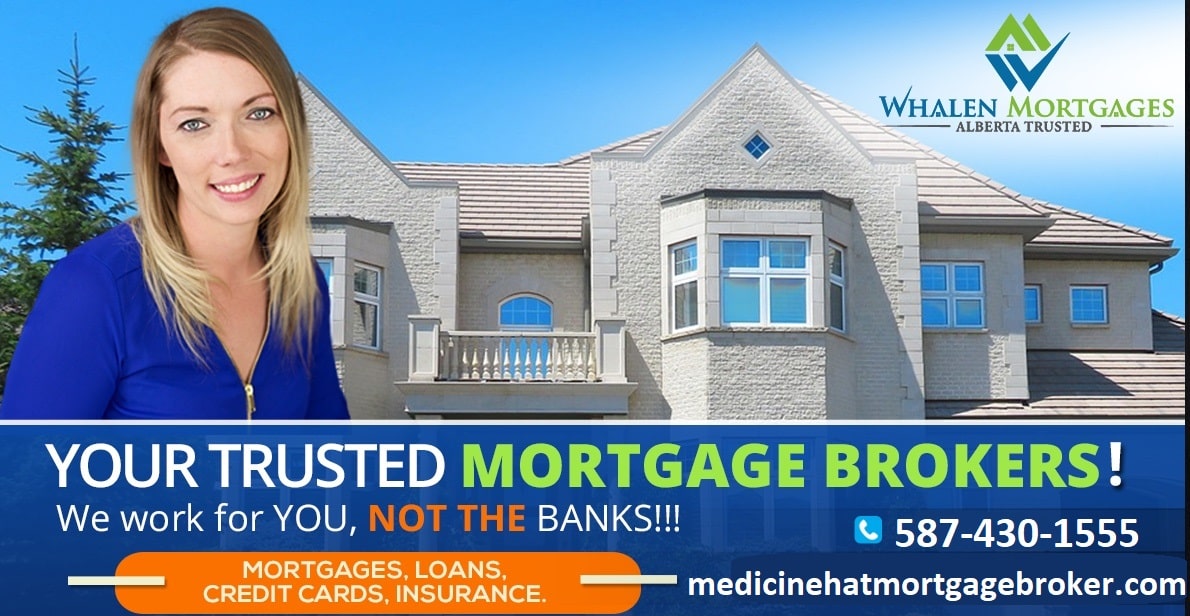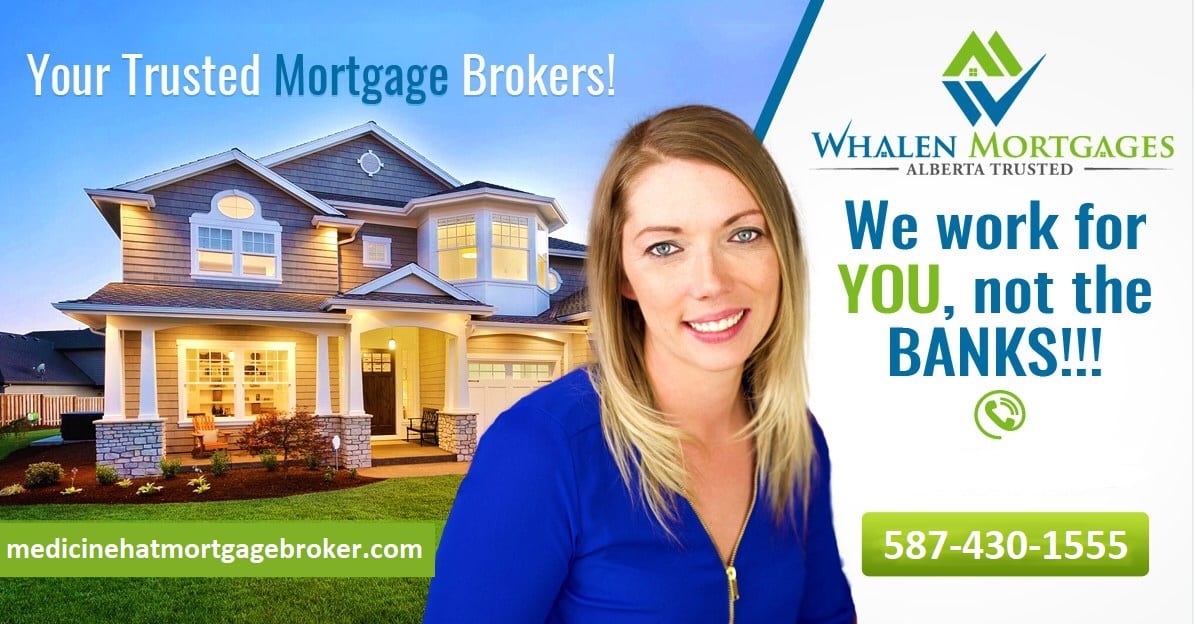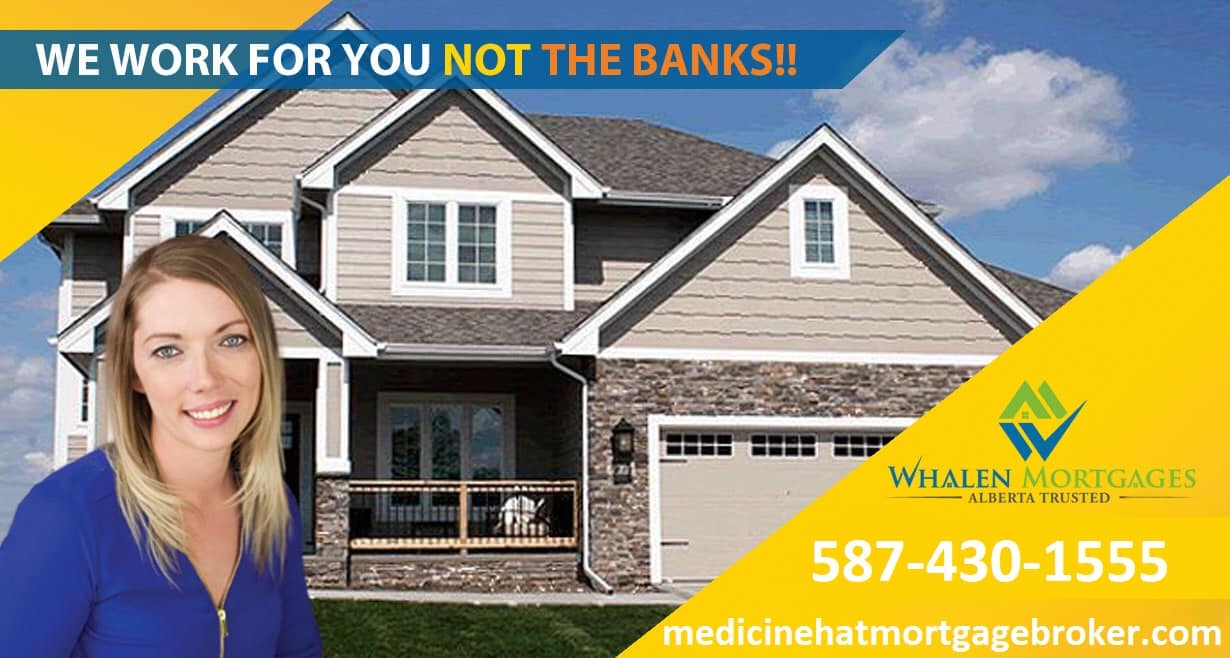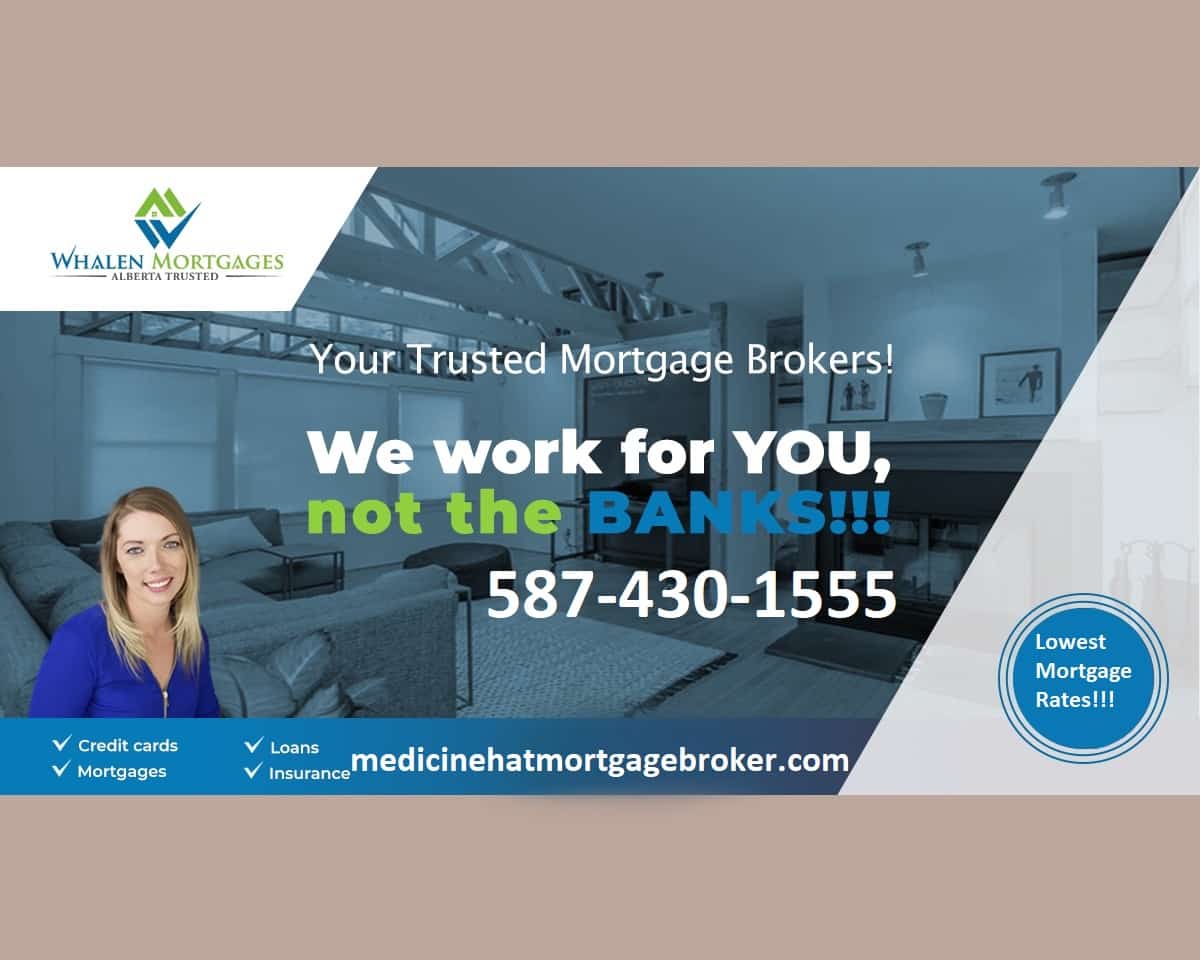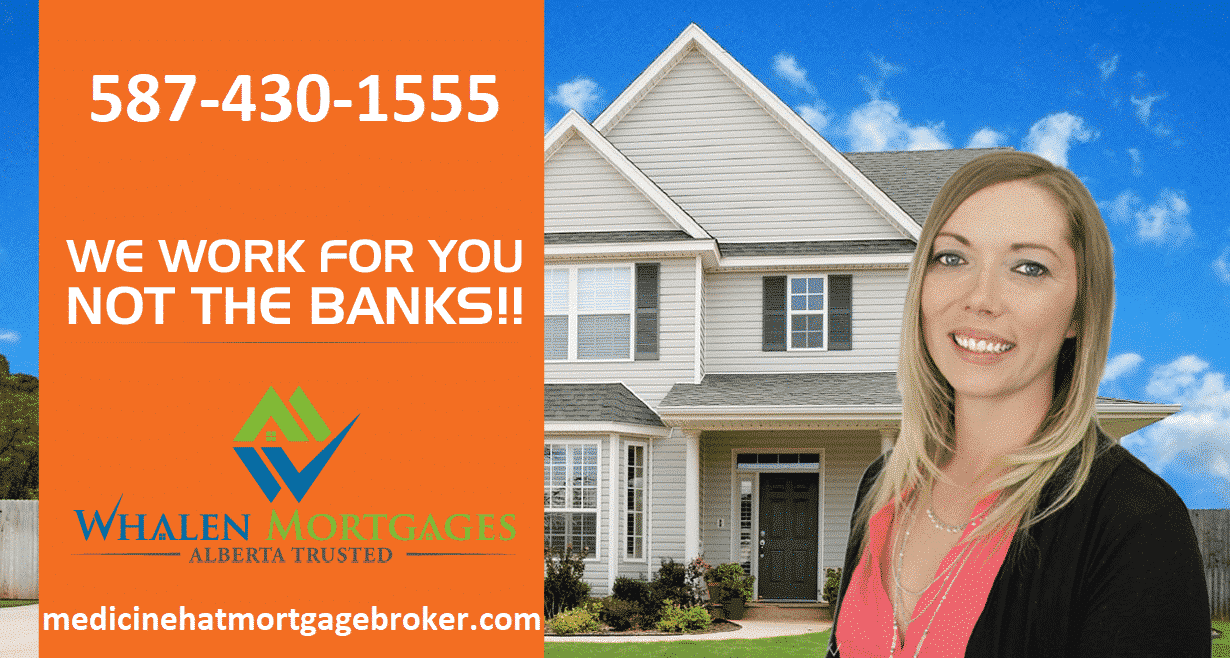 Medicine Hat First Time Home Buyers
Are you planning on buying your first home in Medicine Hat? Whalen Mortgages Medicine Hat can get you a fast pre-approval. We'll help secure a low mortgage rate. Then you can home shop with confidence 587-430-1555.
Whalen Mortgages Medicine Hat is your Medicine Hat mortgage specialists and experts. We can help you get the lowest rate on your Medicine Hat mortgage. We assist our clients in finding the right mortgage for your situation. We also give them the time and attention their new home purchase requires, if you want it done right. We know how to mitigate any risks on the file and explain the strengths of your situation to get your new Medicine Hat mortgage approved. We are your top Mortgage brokers in Medicine Hat.
For example, we offer flex down products that allow you to buy a new home when you don't have a down payment, you can buy a Medicine Hat home with one hundred percent financing. We have lenders who allow you to borrow the down payment with a loan or unsecured line of credit. We can also find competitive mortgage rates though you're only putting a few thousand dollars down as a down payment. Whalen Mortgages Medicine Hat wants its customers to achieve their dream of Medicine Hat home ownership. 587-430-1555
Whalen Mortgages Medicine Hat isn't a mortgage lender. We're the top mortgage brokers in Medicine Hat and have locations all across Alberta, we are your trusted mortgage brokers in Medicine Hat. We work with a wide range of lenders to find the best loans for our clients. We're available weekends and evenings, because we know that Medicine Hat home buyers are real estate shopping at those times. Call us today. 587-430-1555.
Mortgage Renewal Medicine Hat
Is your Medicine Hat mortgage up for renewal? It is a major mistake to simply sign the bank's first offer. And don't make the mistake of failing to shop around for a new mortgage on your Medicine Hat home. While most Medicine Hat mortgage renewal customers renew with their current lender on the lender's terms, this is the best time to find a new lower mortgage rate. You could lock in a lower interest rate, shorten the loan term or eliminate that prepayment penalty. Call Whalen Mortgages Medicine Hat today! We'll get you the lowest mortgage rate and best loan terms on your Medicine Hat mortgage renewal 587-430-1555.
Medicine Hat Mortgage Refinance
Do you want to refinance your current, Medicine Hat mortgage? Maybe you want to pull out home equity to pay off debt or remodel your home. Perhaps you'd like to consolidate your home equity line of credit and second mortgage into a single, lower interest rate mortgage. You can use the money any way you'd like, including investing in real estate or the stock market. Or buy land or a vacation property. Call Whalen Mortgages Medicine Hat to learn more about your options before you go for a Medicine Hat debt consolidation loan.
Whalen Mortgages Medicine Hat can help you with your Medicine Hat mortgage refinancing. Get out from under a bad home loan, whether they charge you an insane interest rate or have hefty fees.
Whalen Mortgages Medicine Hat offers preferred Medicine Hat mortgages from these lenders and more.
We offer mortgages and rates from these Medicine Hat lenders and more!



Welcome to Whalen Mortgages Medicine Hat, the top Medicine Hat mortgage brokers. We're the Medicine Hat mortgage brokers trusted to say yes when the banks say no. Remember we work for you not the banks!
Do you have bad credit? Whalen Mortgages Medicine Hat can help you find a mortgage lender with different products and qualifying rules. We could find you a competitive interest rate on a mortgage purchase or mortgage refinance. You could be approved for a new mortgage and at a better interest rate than the big banks were offering you.
Are the banks slow to return your calls? Are mortgage lenders reluctant to work with you, because you own a company and the income comes from your company? Know that there are mortgage lenders who are happy to have you as a client. Contact Whalen Mortgages Medicine Hat to find a lender who won't charge you more or require you to jump through hoops because you don't have a 9-to-5 job. We can also assist you if mortgage lenders are holding a period of unemployment against you.
There's also the business case in favor of buying instead of renting a home in Medicine Hat. If you buy a home worth 200,000 dollars and pay 850 dollars monthly, part of that money pays down the mortgage balance. And you will have that equity as you pay down the principle on the mortgage. Eventually, you'll have ownership of the house outright. Then there's no longer a house payment. Until then, the home equity is an asset, whereas renters are just throwing that money away. You could borrow against it to remodel the home or pay off debt.
More importantly, most likely afford to buy a home for what you're paying in rent now. Let Whalen Mortgages Medicine Hat make your dream of home ownership a reality.    We can offer our clients the lowest mortgage rates in Medicine Hat.
Furthermore, we don't sneak in high fees to make up for our low interest rates. For example, we won't make up for the low interest rate on a Medicine Hat home loan by charging you an extra 15,000 dollars if you decide to break the mortgage early. Let us place you with a mortgage lender who is honest and does not have large inflated penalties to break your mortgage.
We can also help you if you have an variable rate mortgage. That low interest rate comes with the risk of a price hike later. We can assist you in the transition to a low cost fixed rate mortgage. What if you want to benefit from todays' low interest rates while still reducing the uncertainty involved? We offer hybrid mortgage products. They let you pay the same low rate as adjustable rate home loans while allowing you transition to a competitive fixed rate mortgage. We take the time to educate the lenders mortgage products to you, because we want our Medicine Hat mortgage customers to be informed. You'll understand all of the boundaries and limitations in addition to the benefits. This ensures that you'll make the right choice. Whalen Mortgages Medicine Hat seeks to provide the best customer service possible for our Medicine Hat mortgage clients.
The Medicine Hat Mortgage Pre-Approval
The mortgage application for potential home buyers in Medicine Hat starts with a pre-approval. A pre-approval does not mean they've issued a mortgage. Instead, it is a promise to issue you a loan up to a given amount at a set interest rate. Being pre-approved for a mortgage has a number of benefits. You know how much house you can afford, and you won't lose out on potential properties because you end up being declined for a home loan. Furthermore, a pre-approval letter shows home sellers and real estate agents that you're a serious contender. You'll be able to close on the property faster, too, because you've already gotten a head start on the mortgage approval 
Why Should You Work with a Medicine Hat Mortgage Broker?
What are the benefits of working with a Medicine Hat mortgage broker?  First, we're familiar with the Medicine Hat housing market. Second,  our lenders as well as the big banks understands the market. Third, we're familiar with local housing programs that a number of Medicine Hat employers offer. We can help you qualify for a mortgage in Medicine Hat based on your living allowance, mortgage subsidy or down payment. We understand how shift differentials, bonuses, overtime and driving allowances affect your income statement. Whalen Mortgages Medicine Hat will make sure the right documentation is gathered together and submitted to lenders. This will make the Medicine Hat home buying process as smooth as possible. The Whalen Mortgages Medicine Hat team will ensure that you're qualified for the Medicine Hat home you want.
Whalen Mortgages doesn't just work in Medicine Hat. We offer mortgages for homes in the surrounding area, including rural properties. Call us before you start shopping for a new home 587-430-1555.  Consult with a Whalen Mortgages Medicine Hat mortgage broker before you extend an offer on a new home. Or let us find a competitive mortgage for your vacation home. In fact, Whalen Mortgages Medicine Hat can provide mortgages for anyone in Canada. This is an invaluable service for the many people who commute to Medicine Hat or relocate.
Another reason to work with Whalen Mortgages Medicine Hat is that we have a broad network of Medicine Hat professionals ready to help you achieve your dream. We can refer you to Medicine Hat real estate agents, home appraisers, home inspectors and renovators.
Do We Work with Lenders that Support Housing Programs and Housing Incentives?
Yes! The team at Whalen Mortgages Medicine Hat understands the various programs offered by Medicine Hat employers. We know that many local employers offer mortgage subsidies, down payments and living out allowances to encourage their employees to put down roots in Medicine Hat.
The mortgage application process is made more confusing by all the different types of income Medicine Hat employers provide. You may get performance bonuses, shift differentials, built-in overtime or driving allowances. This is especially true if you work in the oil fields. Some Medicine Hat mortgage lenders may reject your application, thinking that your bonuses and incentives artificially pad your stated income. It is local knowledge like this that explains why we have the highest pre-approval rate of any Medicine Hat mortgage broker.
Can I Get a Mortgage with 0% Down?
Officially, the answer is no. Nevertheless, there is mortgage lenders that might approve you to buy a house with no money down. For instance, you might be able to use a separate loan for the down payment, certain lenders allow this or an unsecured loan to borrow the 5% down payment referred to as a flex down mortgage. Note that restrictions apply. You could also have family provide the down payment in the form of a gift. Then there is the possibility that your current employer provides the down payment.
What Options Are Available to First Time Home Buyers?
A first time home buyer in Medicine Hat has more options than the ones we listed above. For example, you're allowed to access your RRSP and use the money tax free to put down on a home purchase. You need to contact your RRSP investor to learn how to do this.
If you took advantage of this RRSP benefit, you may be able to take advantage of it again. Suppose you bought a home in Calgary using your RRSP benefit. You sold it and moved to Medicine Hat. If you repaid the RRRSP and have rented for at least 3 years, you could tap into the RRSP funds again to provide a down payment. RRSP benefits aren't taxed if you have not owned a home in the last three years. The government also has a restricted shared equity program where if you have 5% down payment, they will match it or 10% on a new build for a shared equity home ownership program. You must qualify directly with them to see if you can apply.
How Much Does a Down Payment Need to Be on a Second Home?
If the property will become a primary residence for another family member or yourself, the down payment needs to be at least 5%. Talk to our team to better understand the rules and restrictions involved.
What Options Do I Have If I want to Make My Current Home A Rental Unit?
Suppose you want to move out of a starter home and into a larger property. Or you're ready to leave Medicine Hat but want to rent the property out. Whalen Mortgages Medicine Hat can help you tap the equity to put a down payment down on your new home, while the rental income will pay the mortgage on the property. We can use a rental calculation with a lease or market rent to wash away most debt on your existing home allowing you to free up the amount you can spend on a new home. 587-430-1555.
You can refinance the mortgage to lower the monthly payments and increase the revenue on the rental. This is true whether the mortgage is coming up for renewal or you're in an adjustable rate mortgage.

This is not my first home, how much down payment will I need?
You should only need 5% down payment as long as it is your primary residence regardless if it is not your first home purchase. The requirement is it needs to be your primary home or a family members to qualify with as little as 5% down payment. If you start to get over a million in total mortgage exposure or the application as a full is weaker they may want 10% down payment to help mitigate risk! Our highly skilled Mortgage Brokers in Medicine Hat are ready to help you, call us today!
What are my options if I have a house and want to turn it into a rental?
If you're buying a new home in Medicine Hat or elsewhere as a primary residence and want to rent out the old property, you can do so with as little as five percent down on the new property. Our rental offset options allow you to wash away the debt of the old home and mortgage to free up your debt load when buying a new home. We are your first choice for your trusted Medicine Hat Mortgage Brokers!
What Do I Need to Know Before Buying Rental Real Estate?
Mortgage lenders require you to have a down payment of at least twenty percent. The government mandates mortgage insurance if you have less than a 20% down payment, and then the property cannot be insured. Additionally, the government doesn't finance pure real estate investment, only first and second home purchases. Contact a Medicine Hat mortgage broker like Whalen Mortgages Medicine Hat to finance your next real estate purchase.
What Are the Mortgage Rules on Second Homes?
You can buy a second home or vacation home for as little as 10% down payment. If you plan on moving into it, you could put the minimal down payment of 5%. If a family member moves into the property, you can pay as little as 5% down payment, too.
Why Should I Use a Medicine Hat Mortgage Broker?
Why should you use a Medicine Hat mortgage broker like Whalen Mortgages Medicine Hat Team instead of applying for a home loan at your bank? First, we work for you, not the bank. This results in a higher level of customer service. We're available when you need us. We're here to answer questions. And we won't push you into a given loan because management wants to meet their monthly quota. Second, we have to find the best loan product for you in order to stay in business. Fortunately, we work with a large network of lenders and banks, allowing us to find better mortgage loan terms than the big banks. And we can find lenders willing to help clients with poor credit, weak income documentation or buying non-conforming properties. These are mortgage customers the banks don't want to serve. For example, banks don't want to fund loans when the property isn't considered easy to sell. If you aren't buying a condo in downtown Medicine Hat, a single family house in the suburbs or a vacation home in a popular resort, they won't want to deal with you. Also, we have multiple lenders and banks to ensure we are placing you with the best mortgage to fit your needs or ensure we will get your deal approved. All the Medicine Hat Mortgage Lenders and Banks compete on rate to our brokerage or they simply do not get the business. Let us get you the lowest mortgage rate in Medicine Hat today! 587-430-1555
Know that Whalen Mortgages Medicine Hat doesn't just serve Medicine Hat mortgage customers. We can work with borrowers anywhere in Canada. Check out our free mortgage calculator to learn how much money we could save you. Allow us to help you save money on your current home or afford the home of your dreams. Call us today! 587-430-1555.
I can help you save money on your Medicine Hat mortgage call your Medicine Hat Mortgage Brokers.
Are you buying a home in Grande Prairie, Red Deer, Lethbridge or Fort McMurray? We have a team of mortgage brokers in Grande Prairie click here to see your options and a team of mortgage brokers in Fort McMurray, click here to see your options. Our mortgage brokers are local to the area and can get you the lowest mortgage rates. If your buying in Red deer click here. Lethbridge purchase click here. If you are buying in Spruce Grove and need a mortgage broker click here.

Top service with the lowest rates!! Thanks so much for the help on getting us our new home!
Melissa Sturpye
Whalen Mortgages Medicine Hat beat my banks rate and had us approved in 1 day. Highly recommend them for your next mortgage.
Peter Justers
Called many banks and mortgage brokers prior to finding Whalen Mortgages Medicine Hat. They have top notch service and the rates no other lender or bank could match.
Tanya Wilson