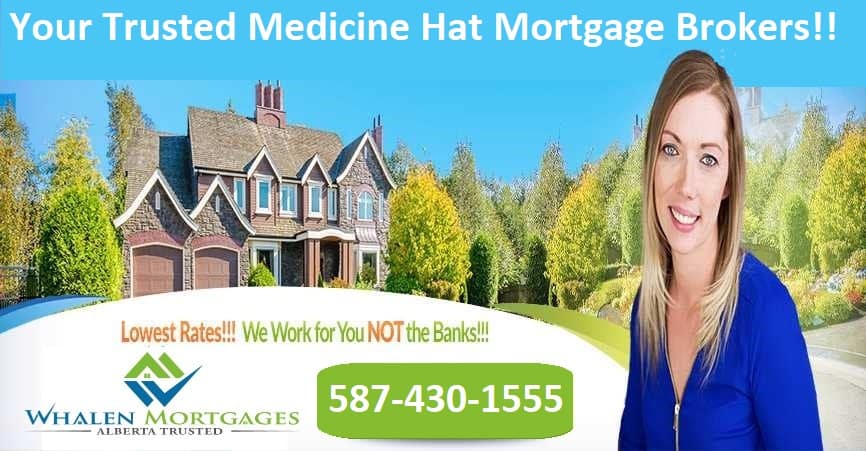 Medicine Hat Acreage Loans
Lenders prefer to extend loans to people buying properties that can be readily sold to another person, since a percentage of mortgage customers default on their loans. The required down payment on a property and the interest rate Medicine Hat mortgage lenders offer are both proportional to the perceived risk, though different lenders have different rules.
Acreage
Conventional home loans only apply to properties covering less than five acres. Once the property has more than five acres, it can be considered an acreage loan. This category includes lots up to 160 acres, while anything larger is generally considered a commercial or agricultural loan. A lot of Medicine Hat mortgage lenders won't consider loans on such properties.  With 20 percent down payment we can get up to 160 acres land and home approved. With less then 20% down payment the insurer CMHC will determine if the area sells 5 to 10 acres with a home and determine what number of acres, they will use in the appraisal value. If a home, garage and 5 acres the home is appraised at two hundred thousand dollars but the sellers want two hundred and twenty thousand for the barn also included the lender will not finance the barn. You will need to come up with the additional twenty thousand dollars for the difference.
Buildings
Larger properties often have outbuildings. These might be sheds, barns, workshops, cabins, or storage buildings. An acreage loan will typically only cover a primary residence and a single detached garage. The lender will include the value of the additional outbuildings in the valuation of the property, but they won't help you pay for said outbuildings.
How does this affect your property purchase? Suppose the property is valued for 600,000 dollars. The small house with an attached garage is worth $500,000, while the shed and barn are worth another $100,000. The lender won't loan you enough money to pay for the $100,000 in outbuildings. You'll need to talk to a Medicine Hat mortgage broker to see your options, if you don't have the cash to make up for the difference between the $100,000 the lender will not cover. It isn't uncommon for rural families to build several homes on the family land. Just know that mortgage lenders will only extend credit to pay for one such residence. You'll have to work with a Medicine Hat mortgage broker to find someone willing to loan you money to build a vacation cabin or guest home on the property.
Utilities
Lenders always require a higher down payment and increased interest rate to reflect the risk associated with raw land. Any property that requires a zoning change to reach its full potential will cost more than one that doesn't. This is why acreage purchased with the hope of being zoned residential or commercial will be shunned by companies that prefer residential mortgage loans. However, they will avoid residential properties that require infrastructure to be built for it to become habitable. For example, if there's no safe water source on the property, most lenders won't touch it. If they do finance it they will require 35% down payment and treat it as purchasing raw land. This could be a connection to the municipal water system or a tested and running water well on site. In the latter case, lenders will require a water test before they'll issue a mortgage.
Down Payment Requirements
If you want to buy an existing home in a serviced area to live in, you may only need to put 5% down. A 20% down payment reduces your monthly payment and your mortgage insurance. If you want to buy raw land that has access to utilities, most mortgage lenders will require at least twenty percent down. The interest rate will be somewhat higher than a conventional mortgage, as well. It can be hard to find a Medicine Hat mortgage lender who will let you buy a serviced rural lot for just twenty percent down. If the property is lacking clean running water or power, you'll have to talk to a mortgage broker to find a lender willing to front any money for the purchase. If there is no electricity and no sewer service or septic tank, it will be very hard to find a lender willing to extend you credit to buy it unless it is truly farm land.