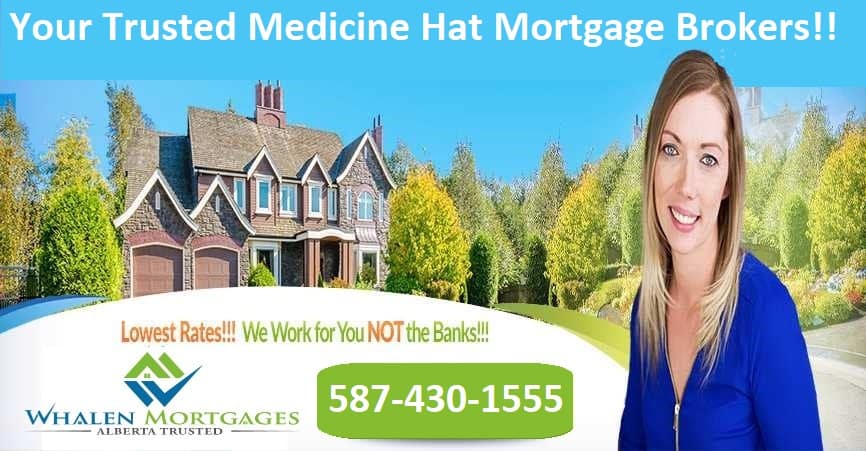 Term
Less then
20%
More then
20%

Refi or
Rental
1 Year Fixed
7.44
NA
2 Year Fixed
7.14
NA
3 Year Fixed
6.39
NA
4 Year Fixed
6.39
NA
5 Year Fixed
5.84
Variable
5 Year Variable
6.30
below
#REF!
5 Year Fixed
<65%
5.84
below
5 Year Fixed
65% to 70%
5.99
below
5 Year Fixed
70% to 75% LTV
6.09
below
5 Year Fixed
75% to 80% LTV
6.09
below
5 Year Variable
<65% LTV
NA
6.3
5 Year Variable
65% to 70% LTV
NA
6.5
#REF!
5 Year Variable
70% to 75% LTV
NA
6.7
#REF!
5 Year Variable
75% to 80% LTV
NA
6.7
#REF!
Medicine Hat RFA
As a Medicine Hat mortgage broker, we don't issue mortgages. Instead, we help our clients find the best rates and most favorable loan terms from our stable of Medicine Hat mortgage lenders. We work with both banks and non-bank lenders to find the right mortgage product for you. This lender network allows us to shop for mortgage products big banks won't offer such as mobile home and purchase plus improvement loans. And this is why we work with lenders like RFA.
For example, RFA is one of our Medicine Hat mortgage companies that offers purchase plus improvement loans. The purchase part of the loan pays for the current property. The "plus improvement" is a portion of the loan intended to pay for improvements. RFA says the improvement loan cannot exceed 20% of the improved value of the property or 40,000 dollars, whichever is less. A loan like this allows you to buy a modest fixer-upper or renovate a property that's in bad cosmetic condition. Every improvement must improve the value of the home, so you can't use the money just to decorate. You're going to have to go through the standard process of qualifying for the improvements with a contractor quote. You don't want to bump up against the limits, because they won't offer extra money if you go over budget. Know that the work will be inspected at the end, and the work must pass inspection for the payment from the lender to be issued. Many Medicine Hat lenders don't want to go through this extra work, which is why few of them offer purchase plus improvement loans.
RFA has conventional mortgages. They also provide flex down mortgages. If you have a flex-down mortgage, you could refinance your home loan and roll it into an RFA home loan. RFA has no problems with you putting 5% down and having someone else give you 5%, giving you a total down payment of 10%.
RFA has a number of mortgage programs for the self-employed. If you don't have good documentation regarding your income, they may consider offering a mortgage, but it will be a higher interest rate and come with a higher down payment.  In some cases, you can be self-employed. You'll have to put up to 35% down on the property and prove you have a six month emergency fund for all house-related expenses, but they'll give you a mortgage if you have good credit.
If you're self-employed, they won't discriminate against you if you have good documentation. If you can provide two years of income and tax statements proving your income, they'll offer you competitive home loan terms. Note that this requires meeting all other qualifications like having the necessary debt to income ratio.
What if you don't have a credit history? RFA is willing to do a manual review of your application. In fact, they regularly do so, because they consider new Canadians for home loans. Contact Whalen Mortgages Medicine Hat to understand the qualifying criteria for this program, since many new immigrants don't have a credit score, much less Canadian tax statements.
RFA has conventional residential mortgages, but they have commercial mortgages, as well. You could then have a loan for both your home and business with them.  Talk to a Medicine Hat mortgage broker like Whalen Mortgages Medicine Hat to learn what rates we can get you with RFA, because they don't have posted mortgage rates.
Why should you consider having a home loan with RFA, aside from the fact they're one of the few lenders that may work with you?
Their online portal allows you to check your loan balance, increase your payments to their predetermined limits or change your payment frequency.

You can make a lump sum payment toward the loan once a year of up to 20% of the mortgage balance. All of this goes to principal.

You can pay up to an extra 20% each month that is applied directly to the principal.

Their interest rate holds are for 120 days; some lenders have rate holds half that long.
Contact Whalen Mortgages Medicine Hat to find out which Medicine Hat mortgage products are right for you.
Call our team today your top Mortgage Brokers in Medicine Hat today 587-430-1555 or apply today.