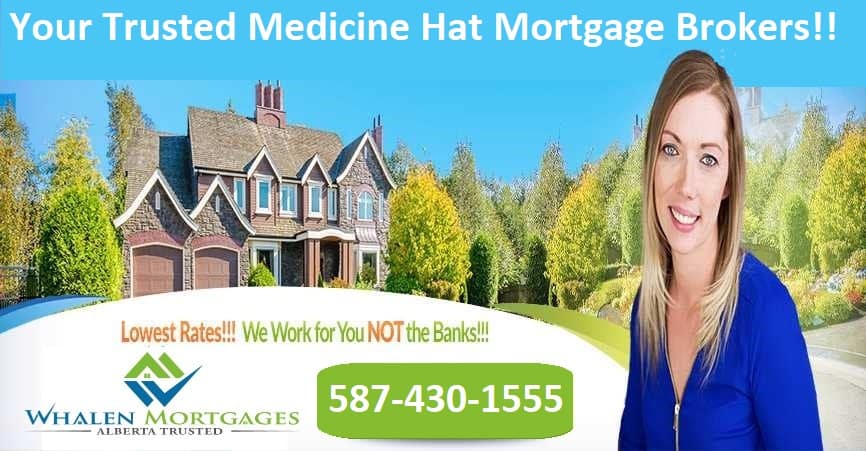 Medicine Hat Mortgage Refinance! Lowest Rates. 
Unless your Medicine Hat mortgage is up for renewal, you'll have to pay a fee at your current lender or bank to refinance your mortgage. However, there are many reasons why you may want or need to refinance your mortgage. Let's look at some of the best reasons to do so.
The Interest Rate Available To You Is Much Lower
There are two variations of this theme. The obvious one is when interest rates have fallen. Let us run the numbers, and you may find that it is worth the cost to break the mortgage based on what you'd save on interest. The other reason to consider refinance is when your personal credit has significantly improved. Mortgage lenders may have offered a high interest rate to offset your poor credit history or lack of credit. After you've paid your bills on time and in full for a few years, you may become a more attractive prospect for lenders. That will be reflected in a lower interest rate offered by other lenders. Whalen Mortgages Medicine Hat also has the top status at all the lenders due to our large volumes and they offer us the lowest mortgage rates available to Medicine Hat mortgage clients.
You Need to Change the Loan Terms
Sometimes the only way to change the mortgage terms is to break it and replace it with a new loan. Switching from a 30-year mortgage amortization to a 10- or 20-year mortgage amortization may be reason enough to pay the associated fees, given what you'll save in interest over the life of the loan. We can also set you up with a lender which allows 20% per month and per year lump sum payment provisions allowing you to pay out your mortgage that much quicker and save on interest you would have otherwise paid the mortgage lender or bank.
Note that you don't always have to break the mortgage to sell your current home and buy a new one. Your lender may let you transfer the mortgage to apply to a new property, though it is up to you to fund the difference if the new home is more expensive. Bridge loans can help you pay for the first property until the second one sells, if you want to use the proceeds of the first property to pay off the new one. We will ensure we set you up with a lender that allows these provisions to port your mortgage and bridge your down payment until the other home you are selling closes.
If you want to consolidate home equity loans or second and third mortgages into the first mortgage, a refinance is in order. This is a cost-effective solution if you're paying a high interest rate on the second and third mortgages or HELOC. We can put all the loans you currently have into one first charge mortgage offering you the lowest mortgage rates. You may also want to pay off a vehicle with the refinance funds or invest the funds, let us know your life goals and we will make sure we are getting you the best mortgage product that fits your life goals.
The Current Lender Is Untenable
Are you really unhappy with the service provided by your current Medicine Hat mortgage company? Are they late applying payments you mailed in or hitting you with excessive fees? You may want to consider breaking the current mortgage and moving to a better mortgage company. Or you may want to leave because they won't let you cancel unneeded add-ons like mortgage life insurance, disability insurance and critical illness insurance. Know that you can take out independent mortgage life insurance and home warranties, so don't let the loss of your current coverage prevent you from saving thousands of dollars a year. We will make sure you understand all the mortgage products and offer you independent life and disability should you want the coverage that ports with you if you change lenders and is fully underwritten upfront and no increase in premiums.
You Need to Access Your Home's Equity
A mortgage lender in Medicine Hat can offer you a home equity line of credit or a second mortgage. However, refinancing your mortgage could give you access to the equity in the form of cash and at a lower overall interest rate. This is true whether you want to use the money to pay off unsecured debt, make necessary repairs or put a down payment on a rental property. Why not change the mortgage loan terms or refinance the debt while you're at it? It costs nothing to ask the mortgage experts at Whalen Mortgages Medicine Hat about your options. It is a free service and we will help you in your financial goals and make sure you are picking a product after fully understanding the lenders and products available. Educated decisions are the best ones and we believe in full transparency and understanding that way you are comfortable in the mortgage you pick for your Medicine Hat mortgage refinance. Call our team today! 587-430-1555.
 Your top mortgage broker in Medicine Hat to get started on your refinance and discuss all the different lenders and products including mortgage interest rates so you can pick the best mortgage product for your situation.